1-on-1 Portuguese Coaching for L'Oréal
---
Book Your Tutoring Session

Congratulations! You've already taken an important first step in your Portuguese skills development by participating in the group classes. One-on-one tutoring provides an excellent opportunity for you to improve your language skills and customize the learning experience to your specific needs. Book your session today!  
Empty row
Book Coaching with Alexandra
Alexandra is a Brazilian Portuguese instructor with 8 years of experience teaching the US Air Force as well as the National Guard. She has done OPI (over-the-phone interpretation) interviews over the phone and remotely. She has trained onboarding instructors and developed curricula for all ILR levels.
Alexandra earned her Bachelor of Science and Mathematics at IMES University in Brazil, also she is a postgraduate in Marketing Administration and recently earned her master's degree in Translation. Alexandra is a native Brazilian Portuguese speaker and has an advanced level of Spanish. Alexandra has the experience and the professionalism to provide premium interpretation and translation services. She has interpreted for the Department of Children and Families, schools, hospitals, clinics, and medical offices. Her teaching and interpretation jobs have provided her with a wealth of knowledge, experience, and satisfaction to be able to have such an important role in establishing communication between the Portuguese-speaking world and the English-speaking world.
>> Book 30 Minutes with Alexandra     >>Book 60 Minutes with Alexandra
Book Coaching with Thiago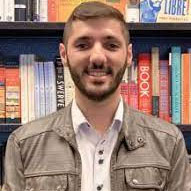 Thiago Arellano, a Brazilian native is a trilingual Language Instructor (Spanish, Portuguese and English). Thiago is also fluent in French and has basic comprehension of Italian. He graduated from the University of São Paulo (USP) in 2013 where he obtained a Bachelor's degree in Letters with an emphasis in Portuguese. In addition, Thiago finished his Master's degree program in Liberal Arts at San Diego State University (SDSU) in July 2017. Thiago is also ACTFL trained.
Academically speaking, Thiago has participated as a panel presenter during the 40th Annual Conference of the Luso-American Education Foundation (2015) held at SDSU and in The American Portuguese Studies Association (2016) held at Stanford University.
Thiago has a great passion for the universe of languages. He has been teaching languages since he was living in Brazil where he taught English and Spanish to several group ages, privately and at renamed schools. After moving to the United States, Thiago began a new chapter as a Language Instructor of Portuguese, Spanish and English for ESL at Language Door School in San Diego, California. Currently, Thiago Arellano is a Portuguese Professor at Southwestern College and, also, teaches online classes for San Diego State University. Beyond that, Thiago Arellano teaches Portuguese, Spanish and ESL English at Language Door. In addition, Thiago has had the opportunity to enrich his teaching expertise by participating in three summers consecutively in the ProjectGO program at SDSU where he taught at the university level. Currently, Thiago Arellano teaches online classes for San Diego State University.
Thiago Arellano believes education is the best approach to a righteous world and that languages aid individuals in opening up their minds to better understand the diversity of the human race.
>> Book 30 Minutes with Thiago     >>Book 60 Minutes with Thiago
We strongly encourage you to book your sessions with your instructor right away. There are many advantages to 1-on-1 coaching, such as personalizing your language goals, covering specific language use cases, and working at a pace that's just right for you. If you have any questions about 1-on-1 coaching, please talk to your instructor.