Online Spanish Courses with Native Spanish Instructors over Skype™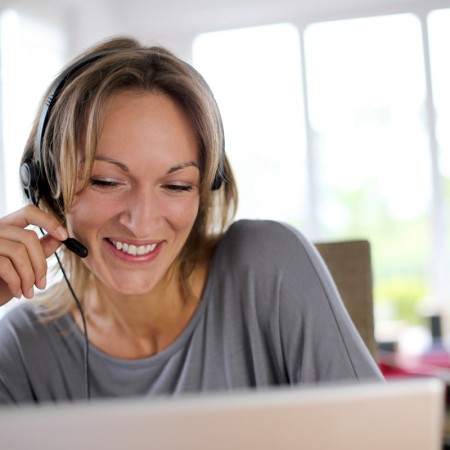 Effective communication. It's the foundation of any successful business. Help your management team and employees communicate more effectively with customers and each other. Now with the help of technology, Workplace Languages has developed the best way to learn Spanish at your convenience.
From the privacy and convenience of our own home or office our clients are able to learn Spanish words and phrases specifically designed around terminology for their industry. One-on-one online Spanish courses are taught over Skype™ by one of our native speaking instructors.
Our online Spanish course program offers 3 distinct levels. Each level consists of ten 40-minute lessons beginning with the instructor assessing each participant's ability to communicate in basic Spanish during the first lesson. We will take the information from that assessment along with the upfront work we've done with your company to develop a unique individualized set of classes for each participant.
Although we typically sell various package options to companies, Workplace Languages provides a number of learning options for any individual wanting to learn Spanish. We want to teach you! We have a passion for teaching adult learners.
Why Learn Spanish?
Become more marketable
Get your point across
Lessen frustration
Re-tool for your current job
Safety issues
Retention of your Latino employees
It's fun!
Description
Student receives ten 40-minute sessions with Native Spanish Instructor
Classes are taught over Skype. You see and hear the teacher and vice versa
Student schedules one 40-minute class each week for ten weeks
You schedule the classes to fit your schedule
Students are given all lessons and audio files to practice in between classes
Three levels – each more industry and company specific
Step-by-Step help setting up Skype™ if you need it
Benefits
Live Teacher!
Immediate Feedback – Answers to specific questions
"Grammar-less" lessons – We only give you what you want!
Individual attention
No commute to class
Affordable! And we guarantee results
Classes are offered from 8:00am to 9:00pm CST Monday through Friday
Employee progress is measureable
Options for Customizing
Have Workplace Languages design an entirely new program with specific vocabulary and phrases unique to your company.
Co-brand one of our existing programs with your company's name & logo.
Choose the materials that best fit your needs:  Manual, Audio CD or MP3, or eBook. We can design the delivery method that best fits your company.
Client Testimonial
"The instructors are fun, friendly, and encourage you to challenge the training and expand on the verbiage. Lessons were always reviewed before they ended and again reviewed when the next lesson started. A great experience, better than Rosetta Stone!"
Toni M. Bianco, Sr. Director
International Research & Development, QA
Papa Johns International
If you have any questions call toll-free 1.866.330.9419 or email Info@WorkplaceLanguages.com.